It's interesting how I became such a big 49ers fan.
Growing up, my grandfather was a huge 49ers fan, and I spent a lot of time with them. I can remember my grandmother getting angry to never get him out the door as the last two minutes was an hour long. Or at least it would seem so (everything seems to be longer when you are 10.) Now, I wasn't particularly attracted to football. I didn't play it in high school, nor did I dedicate my Sundays to the gridiron gods.
I do have one fond memory of going to Sierra College and watching training camp with Grandpa to the Bill Walsh led 49ers. I remember getting autographs from players- heck they probably never made the team. I do remember one of Dwight Hicks- soon to be the "Dwight Hicks and his Hot Licks" fame.
Now Grandpa was a liquor salesman by trade, and I frequently got to ride along on deliveries in the back of Grandma's 79 Cutlass Supreme with the black vinyl seats. It was fun except for that damn hot vinyl and when Grandma would shellac me to the seat with a gratuitous amount of Aqua Net overspray.
Like "Mayday" Malone on Cheers, I guess former sports legends buy bars. Later in my years, I would appreciate the atmosphere and fare at Bunz and Company in Roseville, CA from former 49ers linebacker Dan Bunz. But Grandpa did something really cool for me that sticks with me to this day.
One of his accounts was a dingy dive on Arden Way in Sacramento, CA called the Maple Room. It was what you would consider a "Four Star Dive."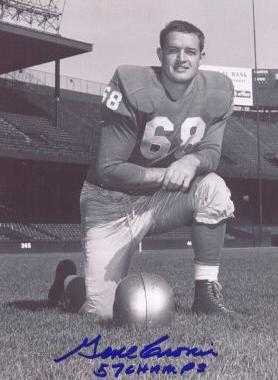 Behind the bar was Gene Cronin, a menacingly tall man to my scrawny childhood frame. I felt like there should have been a beanstalk somewhere. He peered over the table, and while he was only 6'2", he might as well have been 8' tall. He had a championship ring that he slid on my finger. Actually, it was two fingers. To have this on your hand as a young boy was pretty darn amazing.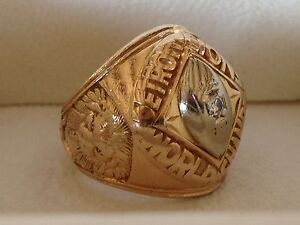 So, one might say, "How does this make you a 49ers fan?" I guess you could always say that it was in my blood. I really wasn't close to my father much, and it wasn't until 1993 that I really flipped on the TV when my wife at the time was at work. John Madden and Pat Summerall were calling a Niners/ Rams game, and I just started getting hooked. I was able to corrupt my children at a young age (Dana had 49ers cheerleader gear) and Andy will not be denied to watch a game. Natalie is certainly coming into her own. In 2007, I had the opportunity to split half a season tickets, for a couple of years during the Mike (No-Win) Nolan ERA.
It's something I certainly get to share with my kids, and there is nothing like going to a game. In the last year at the Stick, it was great to bring Natalie for her first game.
I'm pretty blessed as a Dad to have such great kids, and was able to shoot the game and get some great pics. Natalie even started developing her own eye and took pictures the whole game. I think there was a point that I said, "Don't fill up the memory card!"
The opportunity to shoot can come at any age, and you are never too old or too young to start. Follow your passion, and look at some of the great pics we got in the Sports Gallery.
And as far as Natalie's pics, I think she did a pretty darn good job for her first one!