Art surrounds us everywhere, but what transforms it from art to icon?
As a kid, I remember trips down in the car from Sacramento to San Francisco. I always remember once I got to Berkeley, it would seem that I was close. Passing by the mudflats, there were always a collage of sculptures that would adorn the posts just before we made the turn to cross the Bay Bridge. It was always a sign that I had arrived.
These were not elaborate works akin to Michelangelo, but I am sure that more than one person got into the mix in doing these. It meant something to ME.
They were outlawed in the mid-80's, and to this day, I still glance to my right every time I pass by that stretch of road (which is frequent.) These sculptures were iconic to me and were cultural references to something that clearly more than one person had contributed to. And it was just weird enough to hold my attention.
Remembering these sculptures from long ago got me thinking, what are some other examples of things that are artistic that became cultural?
Some of these have had a shift that folks tend to gravitate to; a curse, a story, or just a general theme. Now, many of these have been purported as destructive, depending on the source, but they have their own place in history. There's no denying that. I'm not promoting the destruction or defacing of any property. Here is a list of things I was able to come up with.
The Tomb of Marie Laveau, New Orleans, LA.
Offerings to Marie Laveau- and three X'sOfferings to Marie Laveau- and three X's
From Nola.com- Decades ago, someone started a rumor that if people wanted Laveau to grant them a wish, they had to draw an "X" on the tomb, turn around three times, knock on the tomb, yell out their wish, and if it was granted, come back, circle their "X," and leave Laveau an offering. While I was down in New Orleans, I had the opportunity to experience it first hand. It is amazing. While it has been said that this is destructive, it is also beautiful and probably has gained more interest and notoriety for Laveau, and no doubt the House of Voodoo store in the French Quarter. The legend has evolved..."simply place your hand on her tomb make a wish, and when she grants it or she comes to you in a dream with knowledge to get what you want, you return and make an offering."
Pont de l'Archeveche: The "Love Lock" Bridge, Paris, France.
The New York times had such a great article on this one, I did not even try to write it myself.
For couples visiting from all over the world, these locks were symbols of their everlasting love. Indeed, in other cities the locks have also caught on as an expression of passion — in Seoul, Budapest, Rome and Tokyo.
Living in one of the world's most visited cities, with 27 million visitors a year, and supposedly the world's capital of romance, Parisians should have guessed from the beginning that this strange ritual had to do with the fantasy of everlasting love. Yet, instead of sharing the naïve joy of the world's Romeos and Juliets, some Parisians have felt increasingly irritated. Walking on those bridges has become almost insufferable for them. The pain doesn't come only from the fact that some bridges, like Pont de l'Archevêché and Pont des Arts, now feel as if they could collapse under the weight of tourists' undying love but also from the idea that a lock could represent love. Such an idea is abhorrent to many French people.
The motto of this story - the lock is in your heart. Not on a bridge. I can be glad to say that I have found that one myself, and tossing the key has nothing to do with it. It's giving and trusting that key with someone who will protect it. 'Nuff said. :-)
The Grave of Oscar Wilde, Paris, France.
We have a theme developing here. It's either French or dead.
"A kiss may ruin a human life," Oscar Wilde once wrote." Because of this verse, women have flocked to the gravesite of the poet and adorned his tombstone with red lipstick with the kiss of many admirers.
As of late, the lipstick was damaging to the gravesite, and was removed and since put under glass. Reuters wrote of this account, describing, "For years visitors would confine themselves to leaving gently admiring billets doux dedicated to the creator of The Importance of Being Earnest and Lady Windermere's Fan. All that changed in the late 1990s, when somebody decided to leave a lipstick kiss on the tomb. Since then lipstick kisses and hearts have been joined by a rash of red graffiti containing expressions of love, such as: "Wilde child we remember you", "Keep looking at the stars" and "Real beauty ends where intellect begins". Surprisingly, perhaps, most are written by women.
Gum Alley, San Luis Obispo, CA (and Seattle, Washington.)
This one can sit in the "gross" category. Imagine a 15 x 70 foot wall of pre-chewed Bubbalicious. (And that s*&t ain't ficticious...)
According to the San Luis Obispo Chamber of Commerce and Downtown Business Improvement Association, the origin of the gum is "a little sketchy". Described on Californiathroughmylens.com, in which we got the great picture, "Bubblegum alley in San Luis Obispo is a 15-foot high and 70-foot long alley lined with chewed gum left by passers-by. The locally created, "most-talked-about landmark" covers a stretch of 20 meters between 733 and 734 Higuera Street in downtown San Luis Obispo. Some historians believe that the tradition of the Alley started after WWII as a San Luis Obispo High School graduating class event. Others believe it to have started in the late 1950s as rivalry between San Luis Obispo High School and Cal Poly students. As soon as the Poly students suspected that the high school was trying to out-do them on the gum walls, the college students stepped up their game and immediately became more creative, thus launching Bubblegum Alley. "
Graffiti Garages, Tacoma, Washington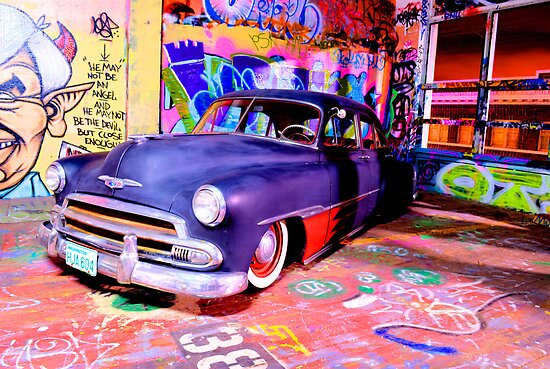 In 2008, this privately owned garage was opened to the public as a place to express urban street art.
Originally opened to combat the city's ongoing graffiti problem, the garages were designated as a "legal wall" for graffiti that ended up commissioning some award winning art for the City of Tacoma. "The idea is to combat vandalism through media-based art," says City of Tacoma arts administrator Amy McBride, "to reclaim walls hit by [inartistic] graffiti; to show there are other ways to show ownership of the walls."
Effective Nov. 1, 2013, the garage was designated as a parking facility only again. After a five year stint, the property now has resorted solely back to a regular parking structure. "We thank the private property owner of this space for making it available in 2008 and for sharing in Tacoma's vision of creating a place for the expression of a unique urban art form cultivated by some very talented and diverse local artists," said McBride. "Unfortunately – as referenced in a public notice issued by the private property owner – as the popularity of this place grew over the years, it also morphed into a very popular gathering place for events that have far exceeded its intended use, in both scale and purpose. Community conversations are underway to find alternate spaces for our local artists to consider as they share in efforts to help realize our joint vision for a safer, more beautiful and more vibrant Tacoma."
I'm sure there are many others that we can add to this list, and while these landmarks may fade, the memories they cultivate will always remain. They are trailblazers, and the inspiration that comes with them will never fade.
Have more to add to the list? Leave a comment below, e-mail me at nateeckler@gmail.com, or post on our Facebook page at www.facebook.com/nateecklerphotography. We'd love to do a round 2 of this list!